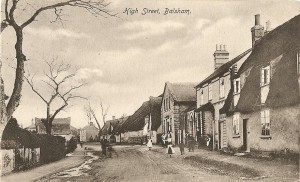 Balsham is in the county of Cambridgeshire, the district of South Cambridgeshire, the UK constituency of Cambridgeshire South-East and the EU constituency of East of England.
Balsham is a large parish lying to the south-east of Cambridge, and covers 1831 hectares. The land rises from the A11, in the north of the parish, through undulating farmland to the site of the village, in the south of the area.
The village extends mainly along one road and has the church at the highest point. Roman roads form the west and south boundaries, Fleam Dyke is to the east, and one of the Icknield Way tracks is the northern boundary. In the Domesday Book Balsham is called Balesham: the village of Baelli.
The housing in the village is a mixture of old cottages, some dating from the sixteenth century, interspersed with newer houses and more modern developments of Closes. The biggest expansion began in the 1960's when much of the land between the houses (fields and larger gardens), was acquired for building. The population of the village at present is about 1600.
The village has a primary school, post office, butcher's shop and dairy, and two pubs: the Bell and the Black Bull. The local farming is mainly arable: wheat, barley, sugar beet and rape are the main crops, and sheep and cows are held on one farm.
The village has a thriving community with many clubs, societies and groups meeting regularly in halls and homes, and there are also football teams for several age groups and cricket teams, which all meet on the recreation fields.
The village is in the centre of the triangle formed by Cambridge, Newmarket and Haverhill, which provide the main centres of employment and shopping. There is also some small industry in the village, and several crafts and trades are pursued from local homes.