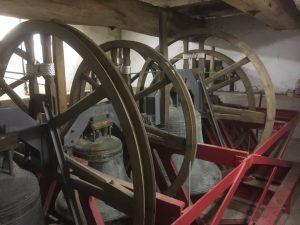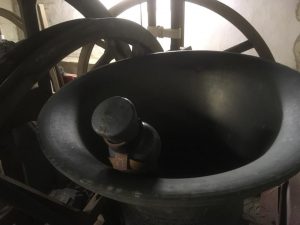 Bell Ringers (Balsham Holy Trinity Ringing Guild)

Village life without the sound of church bells would not be quite the same. Just about every Sunday they announce the morning service, they greet newly-wed couples emerging from the church, and broadcast the good news to the world. They ring out the old year, and ring in the new, and mark various other local and national events. See "Why on Earth are the Bells Ringing Now?"To many, I suspect that the bells are just that – musical instruments which ring out when required. But behind (or rather beneath) every bell you hear is a person, a bell ringer. Without those people, all you would hear is the clock chiming. (Yes, that is mechanical!)
So, who are these people?  The answer is just ordinary people, and rather a small number of ordinary people at that.  We have six bells in Balsham, See "History of the Balsham Bells" and we need a sufficient pool of bell ringers to be able to find six people for every occasion.  Since the bells were re-hung in 1988, the Balsham Holy Trinity Ringing Guild has a proud record of service to the Village (see "A Personal History of the Balsham Holy Trinity Ringing Guild"). but unfortunately, we don't always manage to have enough people, and you will sometimes have heard fewer than six bells ringing together, particularly on a Sunday morning.
So, this is the invitation. Come and join with us to make sure that the sound of bells continues in Balsham, whenever the occasion demands. Not only will you will be providing a service to the community by learning and practising this ancient art, but you will also have a lot of fun. Bell ringing is a fantastic (and inexpensive) hobby. It is also a skill which is recognised as such by the Duke of Edinburgh Award scheme, and can be used to achieve guiding / scouting badges. No special qualifications are required – anyone between about 7 and 70 can learn. See "FAQs"
We can also offer a demonstration to interested groups.
Tower Captain: Richard Pargeter
Secretary:  Claire Tucker
Treasurer: Jules Scotland
To find out more, visit us at our practice at the church on a Tuesday evening, or get in touch with us at balsham.bells@gmail.com,or find us on Facebook at https://www.facebook.com/BalshamBellRingers/